What is Fake Scalp Wig? What's the difference between fake scalp wig and silk top? Which one is better?
If you choose a lace wig, a lace base is significantly in demand and will be the greatest choice currently offered. When you spot a lace base in your scalp it merges highly nicely together with the skin and nobody can possess a clue that it exists on you.
There are three varieties of bases:  Swiss Lace and French Lace and we have HD lace. What's the difference of these laces? How do I choose?
Swiss lace is slightly thicker as compared to the Super Fine good quality. This doesn't mean that it truly is visible. Believe it or not this lace can also be a superb lace for the front, as you cannot see it. It's also a lot more tough in strength. There is four skin colors to match different skin colors. This is most used in hair companies. It is durable and natural. and it can be tinted different shades of brown to blend with a variety of complexions.
A good deal lots of individuals choose to work with French lace as a base. This can be exceptionally tough and can't be noticed from the front at the same time. You possibly can get this base in various colors, perfectly matched with the precise color of the scalp and face. You can decide any with the three suiting your comfort and life-style. French lace is tought, very durable, and strong.
Last one is newly lace: HD lace. This is the most popular lace recently, especially among the experienced wig wearers. HD lace would be the thinnest in quality. It is also the most delicate base accessible. Perfect for use within the front, since it is invisible and doesn't show.  It is  durable, natural, comparatively soft.  HD lace usually come in only transparent lace. Because it is very natural, truly invisible, transparent HD lace matches all complexions.  Also it can be tinted different shades of brown to blend with a variety of complexions.
Overall: 
Fragility /Invisibility: HD lace >Swiss lace > French lace
Softness/Comfortable Sensation: HD lace> Swiss lace>French lace
Durability: HD lace <Swiss lace < French lace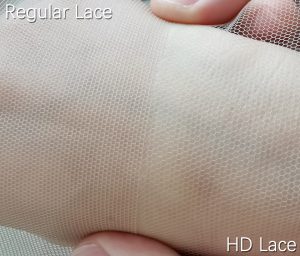 Here are also two tips for you to choose difference laces:
1. It really is a matter of preference. Swiss lace is finer, and more fragile, than French lace, and blends better with the skin for a less visible appearance. French lace is slightly thicker and more durable. We generally recommend that first time buyers go with French lace because they are inexperienced at wig application and removal and are more likely to damage a wig cap made of swiss lace. With experience applying and removing wigs, you may feel more comfortable with HD lace, then swiss lace.